ArAS/OxArm POPULAR ASTRONOMY PRIZES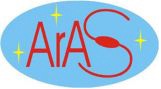 ArAS/OxArm Annual Popular Astronomy Prizes 2011 were awarded on December 19 at the Byurakan Astrophysical Observatory (BAO). They have been jointly established by ArAS and the Oxford Armenian Society (OxArm, http://oxarm.com/Home.html). The Prizes intended to encourage popular astronomy publications and TV/radio programs in Armenia. The Committee (Jury) consisted of scientists and journalists.
The Prize for the most active journalist was awarded to Gohar Hakobyan ("Aravot" newspaper). She was not only active in her own publications during the whole 2011, but also she was editing the cultural-scientific section of the newspaper and followed all major scientific events in 2011.
The Prize for the best newspaper/journal/online article was awarded to two journalists: Artur Hovhannisyan ("Hayacq") and Narine Ghazaryan ("Lragir").
The Prize for the best radio/TV program was awarded to Narine Sahakyan (H1 TV, for the film "Science on Mt. Aragatz slopes").
Each prize consisted of ArAS/OxArm official certificate and 30,000 Armenian Drams (AMD) monetary award.
The Prize for the best astronomical photo was not awarded due to absence of nominees.
In addition, certificates of appreciation for activity in scientific journalism were awarded to a number of mass media, such as "Shant", AR and "Armenia" TVs, "Aravot", "Irates de Facto", and "Hayacq" periodicals, "Armenpress" news agency, "Panarmenian", "Zham", and "Mediamax" Internet news sites. Certificates of appreciation and small prizes (subscription of the Armenian National Academy of Sciences popular journal "In the World of Science" for 2012) were awarded to journalists Armine Sargsyan, Grigor Emin-Teryan, Hayk Khalatyan, Anna Yeghiazaryan, Lusine Movsisyan, Eleonora Araratyan and Mane Hakobyan.
For popularization of science, special prizes ("Celestron" amateur telescopes and certificates of appreciation) were awarded to ARMACAD scientific network (founder and coordinator – Khachik Gevorgyan) and the Armenian Scientific Cooperation (ARMSCOOP, founder and coordinator – Armen Martirosyan).
The first Scientific Journalism prizes in Armenia have been awarded in 2009 on occasion with the International Year of Astronomy (IYA-2009). Lusine Martirosyan ("Armenpress" news agency) was announced the most active scientific journalist in 2009 and Melanya Barseghyan ("Aravot" newspaper) won the prize for the best scientific paper.